Forest Houses
Museum of Forest Finn Culture / Svullrya, Norway
2018
International Architectural Competition
Award, 'Best Project 2014-2018', DOMES Awards 2019
Colleage's Award, 'Best Project 2014-2018', DOMES Awards 2019
---
The Museum is dedicated to the Forest Finns, of the east borders of Norway ca the 15th c, known for their method of 'slash and burn' for cultivating the land.
We imagined little wooden houses with steep sloped roofs under the tall trees. Like the branches of a tree, the 'houses' are joined together to different directions.
Inspired by the conical piles of wood, the sloped roofs combine the intensity of height with the dark smoked interiors.
The Museum extends all on one level, structured along a narrative that allows visitors to experience the native culture. The museological experience is enhanced by the dark interior, while architectural lighting gives the impression of sunrays penetrating the trees' foliage.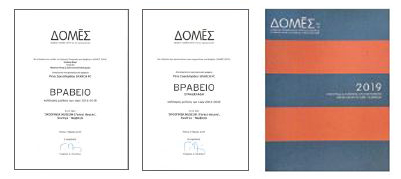 CREDITS
ARCHITECTS:
Rena Sakellaridou, Project Architect, partner in charge (RS SPARCH PC, Athens)
Ragnhild Torsteinsrud-Smith, partner in charge (Meinich Arkitekter AS, Oslo)
COLLABORATORS
RS SPARCH PC: N. Apergis, N. Tsompikou, A. Verteouri, G. Brazioti, K. Skalkogianni, G. Papanikolao, E. Arletou (student)
MEINICH ARKITEKTER AS: E.Lindkjølen, E.Serenko, K.Gdula
SPARCH RENA SAKELLARIDOU SPARCH PC / All rights reserved / 2023